Lulu and the Hamster in the Night
Written by Hilary McKay
Illustrated by Priscilla Lamont
Reviewed by Olivia P. (age 9)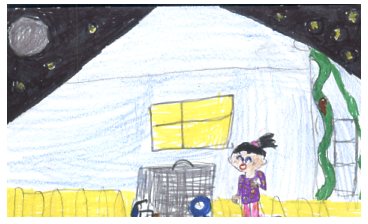 In Lulu and the Hamster in the Night by Hilary Mckay, Mellie, Lulu's cousin, didn't close the hamster cage all the way and the hamster escapes. In the beginning, Lulu got a hamster named Ratty and brought him home to clean the cage. Next, Lulu brought Ratty to her Nan's house. Lulu and Mellie had to keep it a secret because Nan does not like hamsters. Mellie forgot to close the cage door all the way and Ratty got out! Read the book to see if Lulu and Mellie can find Ratty before Nan's birthday.
Lulu and the Hamster in the Night is a great book to read! My favorite part in the story was when Emma Pond gave Lulu Ratty. Lulu has a lot of animals and is getting another one! Another favorite part in the story is when Lulu and Mellie go to the fair with their Nan. In the story it was Nan's birthday tomorrow and they went to the fair to have fun. I like the illustrations in the book because they looked really realistic. One example is a picture of Ratty when he hides carrots under his bed. Ratty looks really realistic.
I would recommend this book to people who like animals and to 2nd and 3rd graders. In this story Lulu has a lot of animals like rabbits, dogs, hamsters, and many more. 2nd and 3rd graders would be able to read the book and won't be confused. If you like animals or are in 2nd or 3rd grade you should go out and buy this book.