The Talented Clementine
Written by Sara Pennypacker
Illustrated by Marla Frazee
Reviewed by Emma N. (age 9)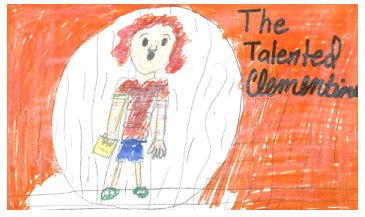 In The Talented Clementine, by Sara Pennypacker, Clementine is at school when she finds out that the third and fourth graders are going to be putting on a talent show, but she says that she doesn't have a talent. She claims that she can't even hop, after she tries to hop, her body is confused. In the beginning, Clementine's teacher announces that the third and fourth graders are doing a talent show. The reason why is to raise money for a spring field trip. Then, Clementine goes home and she tries and tries to find one thing to do to perform. The night of the show came, and Clementine still didn't have anything to perform. To Clementine's luck, right before the talent show started, one of the fourth grade teachers who was helping to organize the talent show, found out that her daughter was having a baby right at the moment, so she left from the auditorium to go to the hospital. After that, Clementine got asked by Principal Rice to take the fourth grade teacher's spot. Like I said to her luck, she didn't have to perform! She really helped out for sure at the talent show. In the end, Clementine is shocked. Read to find out why Clementine is shocked!
The Talented Clementine is a wonderful book! In the book, Clementine shows a lot of courage and perseverance before the talent show. One example is she isn't giving up. She is trying to find something to perform at the show. Clementine also shows a lot of kindness at the talent show. In the story, when she took the teacher's spot, she made sure that everyone got a turn, and that everyone was safe. One of my favorite parts is when Clementine tries to convince her teacher that she is moving to Egypt! In the story, her teacher of course doesn't believe her at all, and the truth is, she doesn't have a talent to perform, but her luck changed everything.
I would recommend this book to 3rd through 5th graders who enjoy reading realistic fiction. This story teaches readers to never give up, even when facing hard times. 3rd, 4th, and 5th graders could probably relate to Clementine when you think that you can't do anything that you want to do. If this book sounds like a book for you, make sure to go to your local library or book store to get this book. It's AWESOME!