Marvin Redpost: Alone In His Teacher's House
Written by Louis Sachar
Reviewed by Shrey J. (age 7)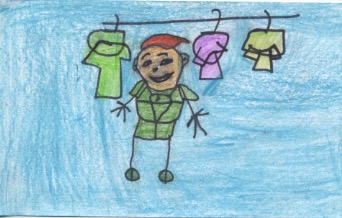 Marvin Redpost has a teacher named Mrs. North. One of Marvin's friends tells him which car is Mrs. North's. Marvin's friends say bye to him. Mrs. North tells Marvin to take care of her dog. Her dog's name is Waldo. Mrs. North asks Marvin if he likes dogs and he does like dogs. So Mrs. North says, "Could you take care of my dog?" He says yes. After school, he goes to Mrs. North's house and takes care of Waldo. You have to read the book to find out more about the story.
I like this book because it is a bit funny because when Mrs. North introduces Waldo, she says that Waldo is seventeen years old. Mrs. North even says that is one hundred and nineteen in dog years. Waldo is interesting because he did not eat his dog food. Marvin Redpost is a series book. I have read some books of Marvin Redpost. I like the pictures and illustrations because they are clear. My favorite character is Marvin because he is mature.
I recommend that first graders through third graders read this book. This book is a tricky book like in the part when Mrs. North didn't say he wasn't old, but he was old. I think people who like tricks should read this book!