Pinky and Rex and the Bully
Written by James Howe
Illustrated by Melissa Sweet
Reviewed by Madison M. (age 7)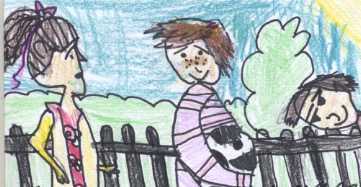 Pinky and Rex is a great series. This book is about Pinky's name. There is a bully named Kevin. I would not want to be his friend. Do not forget Pinky's friend, Rex. Rex is a nice friend. In the beginning of the story, Pinky got kicked off his bike by Kevin. Kevin called Pinky a sissy and chanted, "Pinky is a gi-r-r-l, Pinky is a gi-r-r-l" but he is boy. Then Mrs. Morgan came and ran over and said, "Go home before I call your parents!" Then he scattered but he did not go home. When Mrs. Morgan walked away, Kevin went behind a tree and called out, "Hey sissy!" Mrs. Morgan did not seem to notice. Instead, she invited Pinky for cookies and lemonade. You will have to read the book to find out what the conversation was about!
My favorite part was when Mrs. Morgan was telling a story about when she was a little girl. You will also have to read the book to see what Mrs. Morgan said. I think this is a good book to read at school. In my opinion, I like the book. I do not LOVE the book but I like the book. I like funny books. I related to the book because sometimes people make fun of my name and called me "Mad-ison." I felt sad about it because I didn't like being called that and they were making fun of me.
I think that if kids are bullying you because you have a girl or boy's name and you are a boy or a girl, you should read this book. I recommend that kindergartners to third graders read this book. I recommend that 4 year olds to 8 year olds read this book.