Marvin Redpost: Alone In His Teacher's House
Written by Louis Sachar
Reviewed by Logan B. (age 7)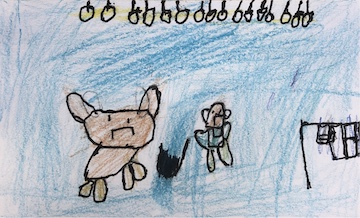 Mrs. North, Marvin Redpost's teacher, asked if he can take care of her dog, Waldo. Marvin didn't know why. Since Mrs. North was going away, Mrs. North told Marvin he was the most mature. One day while Marvin's best friends made fun of him, Marvin felt bad. He thought he was getting picked on because of Waldo. One day, Waldo wasn't eating and Marvin showed Waldo it was good but he still didn't eat. Marvin called her vet. She said, "Give him litter."He started eating. The next day, Waldo… I can't tell the ending. If you want to find out, read it!
I like this book. It is a bit funny because when Mrs. North introduced Waldo, Marvin thought he could handle it, or can he? My favorite part was when Mrs. North said to Marvin, "Waldo is 17 years old in human years. That's 119 years old in dog years!" Marvin kind of reminds me of myself because when he is in school, people talk to him like people talk to me. It reminds me of that because when Marvin tries to listen, his friend keeps talking to him. When I'm trying to listen in school, sometimes my friends talk to me too.
I recommend that first graders through third graders would like this book. I recommend this book for people that like jokes.