Horrible Harry Moves Up to Third Grade
Written by Suzy Kline
Illustrated by Frank Remkiewicz
Reviewed by Amanda B. (age 7)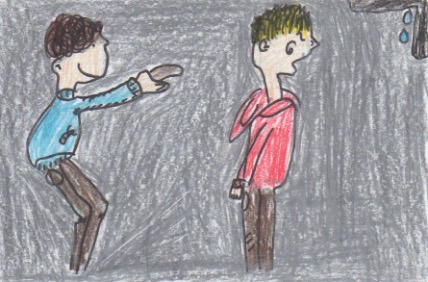 Horrible Harry is a kid who goes to a school called South School. Sometimes he gets in trouble. For example, he holds up a fist at a kid named Sidney. On a field trip they go to a mine and one of the characters' name is Doug. Doug gets kind of scared. Harry does a prank on Sidney. What prank does Harry do on Sidney? If you want to find out, read the story. After they get back, Doug kisses the grass because the mine was wet and dirty. He was so happy to be home!
I think this book is funny because Harry pulls a prank on Sidney. I liked when Harry did that because Sidney made an annoyed face. My favorite characters are Harry and Doug because they're both funny. I liked the illustrations because they show what Suzy Klein, the author, writes in the words. When Harry does the prank on Sidney, it reminds me of when I do pranks on my brother. It's different from other books I read because the illustrations are different. The sketches are black and white and they look realistic. I wonder what will happen in fourth grade.
If you are in 2nd or 3rd grade, you will especially like this book because it's about Harry moving up to 3rd grade. If you like doing pranks on people, like I do, you will like this book. I like doing pranks on my brother, especially on April Fool's day. There is a really funny illustration of Harry doing a prank on Sidney. If you read Horrible Harry books, you will like this one. It's an exciting story with a lot of action.