Adventures of Don Quixote
Written by Argentina Palacios
Illustrated by Thea Kliros
Reviewed by Andrew M. (age 10)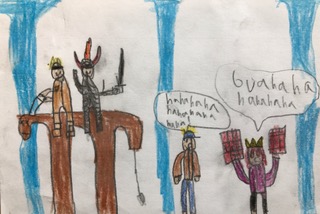 In Don Quixote, the "knight" Don Quixote tries to stop evil. He has good intentions, but there's one problem, he's insane. So he thinks many inanimate objects are evil. He gets laughed at a lot because fighting inanimate objects is funny. Will Don Quixote endure the teasing and stop evil or will he retire in sadness? Read the book to find out!
My favorite part is when Don Quixote recruits a farmer to be his squire because he never got any squire training so that is funny. I like this book because it is very funny, you think it's one genre but when you finish it it's a different genre, so it is very unique. I found Don Quixote the knight very interesting because he is an insane knight that and he is an odd character. The reason I like him is because he never gets down by his peers teasing him.
I recommend this book for young readers because it is a chapter book that is not too advanced and it is funny.