Bud, Not Buddy
Written by Christopher Curtis
Reviewed by Brittany P. (age 11)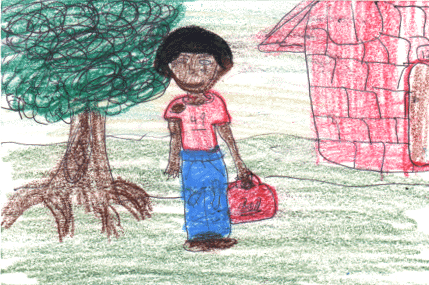 Bud, Not Buddy is about a boy named Bud who lives in an orphanage until the Amos family adopts him. He overcomes many obstacles, like being locked in a shed and trying to find his way to the mission for food. After looking again at a postcard containing a picture of his dad, whom he has never seen, he wonders if he should go looking for him. Since the Amoses are mean to Bud, he finally decides to run away in search of his dad. You'll have to read the book to find out what happens.
This book is by the same author who wrote The Watsons Go to Birmingham, and they are similiar in that they both take place around the time of the Great Depression. In the beginning of the story, Bud is very unhappy and lonely, but that changes when he starts to look for his dad. When I read this book, I liked it because Bud was always on a new adventure, like the time he jumped on a moving train. My favorite character is Bud because he has strong opinions, just like my older brother Phillip.
I would definintely recommend this book for older students as well as adults. I think adults might enjoy reading this book because it takes place during the Great Depression. There are many funny events, like the time Bud poured water in his adopted brother's bed, to make it look as if he had wet the bed. My favorite part of the book is when Bud moves to a new family and everything goes wrong, like the time he was stung by bees. Read this book to find out more about Bud's many adventures.