Nancy Drew - Scream for Ice Cream
Written by Carolyn Keene
Illustrated by Macky Pamintuan
Reviewed by Samantha N. (age 8)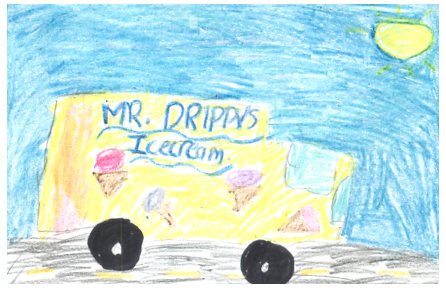 Nancy Drew and the Clue Crew Scream for Ice Cream written by Carolyn Keene and illustrated by Macky Pamintuan is about three girls Nancy, Bess, and George, the Clue Crew, who enter an ice cream contest. The local ice cream factory, Jim and Barry's, is running the contest to find a new flavor. Nancy, Bess, and George's friend, Kendra, enters too, but she loses her ice cream recipe. Kendra is afraid that someone else will make her ice cream for the contest so she asks them to help her find it. A group of kids including Daisy, Peter, and Melissa start the Jim and Barry's fan club because they love their ice cream. The Clue Crew goes to Jim and Barry's fan club first because they know that the fan club heard that Kendra has a winning recipe and they really want to win. The Clue Crew has to do a blindfolded taste test to become members. George tried and guessed it was peanut brittle blast and Nancy ate toffee crunch. They don't get in because Bess doesn't like marshmallow martian, and as they run out George steals a recipe. But, it wasn't Kendra's recipe. A few days later they see their other friend, Ken, with chocolate at the grocery store and follow him. Did he steal the recipe? Read the book to find out who stole the recipe and who wins the contest.
This book is interesting. My favorite part is when Nancy, Bess, and George go to Jim and Barry's Fan club. I like that part because it was entertaining when they were trying the different flavors. George went first and correctly guessed it was peanut brittle blast and the club members applauded. Next, Nancy was blindfolded and guessed it was toffee coffee and she was applauded too. Last was Bess. She spit the ice cream back in the bowl and screamed, "BLEEEECH!" It was green and she doesn't like green ice cream. My favorite illustration is the dog eating the ice cream. The picture shows the ice cream all over the floor and the fridge is open. The dog is eating the ice cream. It's funny. I like this book because the characters don't give up when looking for Kendra's recipe. Even though there was only one hour left before the end of the contest, they were still looking for it. That's why it's a great book.
I recommend this book to 1st through fourth graders. If you like mysteries, this is a good book for you. Nancy, Bess, and George never gave up trying to solve who stole Kendra's missing recipe. This is why this book was so interesting. It is a fun and enjoyable book. Maybe you should try it!