Nancy Drew and the Clue Crew The Cinderella Ballet Mystery
Written by Carolyn Keene
Illustrated by Macky Pamintuan
Reviewed by Ava K. (age 8)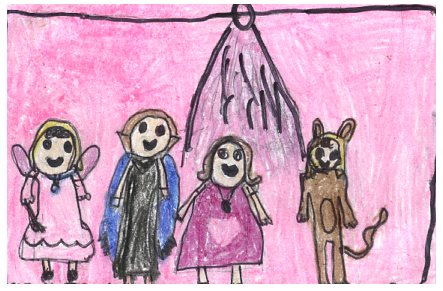 In Nancy Drew and the Clue Crew Cinderella Ballet Mystery, Nancy, Bess, and George are at Tim McGuire's Dance Studio stretching to get ready for their ballet class. The class is about to rehearse for the ballet, "Cinderella." Mr. McGuire has to make an announcement because Autumn sprained her ankle on the steps and she cannot play Cinderella. So Mr. McGuire said that there would be a new Cinderella for the show. When Nadine hears that Andrea is the new Cinderella, Nadine gets angry and very upset that she didn't get the part of Cinderella. Then a few days later, Andrea tells everyone that the Cinderella slippers are missing and no one knows where the slippers went so the Clue Crew which is Nancy, Bess, and George try to find the slippers in time for the show. One of the suspects was Deirdre, but she didn't take the slippers. Then Nancy found a paper and it said "taille 35" and then Nancy found out that "taille 35" means a size for a shoe. Read the book to find out if the Clue Crew found the slippers for the show!
I have a connection with this book when Autumn sprained her ankle and she could not perform in her show. That is like when I couldn't perform in my show because I was sick. I felt sad and I know Autumn did, too. Nancy is my favorite character because she's nice. I think Nancy is a nice person because she said, to Nadine, "I'm sorry you didn't get to be Cinderella. But you're an awesome dancer! We need you in this scene." Nancy is the smartest because Nancy noticed that the writing on the piece of paper that said "taille 35" was the same writing as the Cinderella shoebox writing. Nancy is smart because she asked the right questions to solve the problems. For example, Nancy asked Gregory if he took the slippers because the Clue Crew thought it was one of Gregory's practical jokes.
I think kids who like mysteries should read Nancy Drew and the Clue Crew Cinderella Ballet Mystery because it has a difficult mystery that needs to be solved. This book is for 8 and 9 year olds because it is a "just right" book for them. I think readers would like the characters because Bess, George, and Nancy are all smart and kind.