The Pet War
Written by Allan Woodrow
Reviewed by Gianna C. (age 9)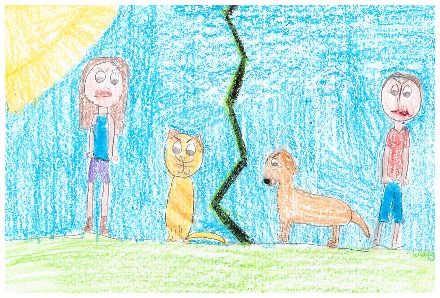 Are we going to get a cat or a dog? Read The Pet War by Allan Woodrow to find out which pet they are finally going to get.
To begin with, there is a boy named Otto and he wants a dog but his older sister Lexi wants a cat. They can't agree so their mom suggested that they should each try to make five hundred dollars in a month and who ever does gets the pet they want. They both want to win so they try really hard! Otto does a cookie stand, sells apples and has a dog walking service. But when he bakes the cookies, something bad happens in the kitchen. On the other hand, Lexi makes a huge chart on why they should get a cat. She also does a tutoring job after school. They both work all month to get the pet they want!
In addition, I thought the book was awesome! I think this because I love animals and it was all about getting a pet. The characters in the story are just like me and my sister. We always get into fights and once we got into a huge fight just like Otto and Lexi in this story. My favorite part was when Otto had a dog party and a lot of dogs came, but they all get into fight so some people left but then Otto brings out this screaming monkey and all the dogs went after it. This was my favorite part because it was so much craziness going on at once! The last thing that is important about this story for me is that Otto reminds me of myself. I always ask my mom for a dog (golden retriever). I say I will use my own money, but she always says no.
In conclusion, you should read The Pet War by Allan Woodrow. All kids who want a pet will love this book! Go check it out at the library today.