Smile
Written by Raina Telgemeier
Illustrated by Stephanie Yue
Reviewed by Callee J. (age 9)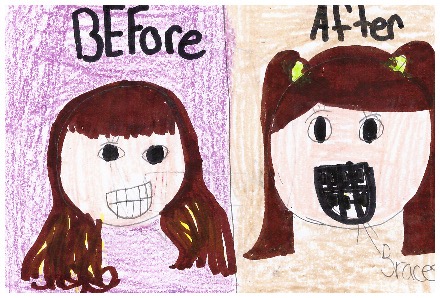 Bam!! There go my two front teeth! Find out how it happened in Smile by Raina Telgemeier.
To begin with, this story is about a girl who was racing to her front porch with two of her friends after a girl scout meeting when she fell. This unfortunately made her two front teeth come out and started her very long journey of getting her two front teeth back! She went through braces more than once, headgear, and many other problems with her teeth. Also, an earthquake hits them! How are they going to handle this? The story also tells about Rania and her family's interesting road of ups and downs.
In addition, I think this is an amazing book. I liked the book because it had a happy ending and we all know that life doesn't always work that way, but everybody loves a happy ending! I also really liked that this book is part of a series. Smile is nothing like any of the other books which I like, because it makes it special. The other books have different stories, but the same characters. My favorite part of the book was when Raina's retainer fell out with her two fake teeth attached. This is my favorite part because it was funny and embarrassing for Raina and I love funny books.
In conclusion, this book is perfect for girls ages 7 to 10. I also recommend to read it by yourself. You will have many great laughs!!