Absolutely Almost
Written by Lisa Graff
Reviewed by Gracyn K. (age 9)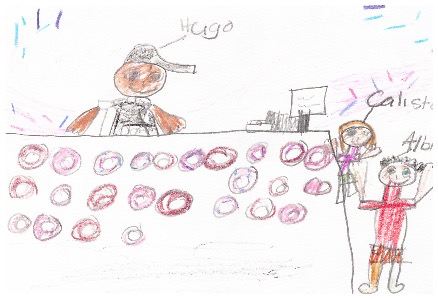 Join Albie on his journey of being a fifth grade boy in Absolutely Almost written by Lisa Graff. Explore the challenge he faces and how he realizes with the help of his nanny Calista the kind of person and friend he wants to be.
Absolutely Almost is about a boy named Albie who is struggling to fit in. It tells the story of Albie's every day adventures through fifth grade; including making friends and spending time with Calista, his nanny, who helps him uncover his strengths, and Albie's relationship with his parents. He learns that parents make mistakes in parenting too and he discovers that being "cool" isn't really fun. He realizes the importance of being a good friend.
I really enjoyed reading Absolutely Almost. Albie's character reminded me of one of my classmates who struggles to fit in. This person is always trying to be a part of the different groups in my class. I see a little of myself in Calista because I like to care for younger kids and I love to draw. My favorite part of this book was when Albie and Calista would get donuts together and spend time together because even though Albie didn't always realize it, Calista was teaching him lessons about life. This book helps readers understand how bullying hurts others and the importance of being a good friend to others, even if they are different than you. I felt this book is special because it relates to the everyday challenges kids face in school and in life.
I definitely would recommend Absolutely Almost to my fellow third grade classmates because all kids have personal challenges that they have to confront in their families and in school. The chapters are short which makes it feel like a quick read. When I read the book I heard the voice of a fifth grader speaking to me because of the language the author used.