Amelia Bedelia Unleashed
Written by Herman Parish
Illustrated by lynne Avril
Reviewed by Ashlyn D. (age 8)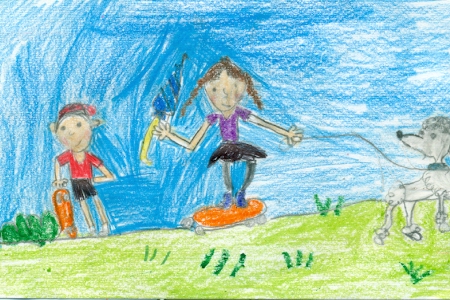 Do you like funny books? Then Amelia Bedelia Unleashed is the book for you! Amelia is a very funny girl. She has a bright imagination. She thinks of raining cats and dogs. She goes down a hill holding a leash and umbrella on a skate board and almost…Oops I told you too much already! Read the book to find out more!
I think this book is funny because Ameila thinks about things people say in a really funny way. For example, one time she thought about it actually raining cats and dogs outside after someone said that. Amelia Bedelia reminds me of myself. She is always thinking about funny things, just like I do. We both have bright, big imaginations. My favorite part of the book is when Amelia goes down a hill on a skate board with a dog on a leash with an umbrella. I was amazed by this part because Amelia has never skateboarded before!
I think students in third to fourth grade should read Amelia Bedeila Unleashed because she is a funny girl and will make you laugh. If you like funny books than Amelia Bedelia Unleashed is the book for you!