When Lightning Comes in a Jar
Written by Todd Parr
Illustrated by Patricia Palacco
Reviewed by Franco P. (age 9)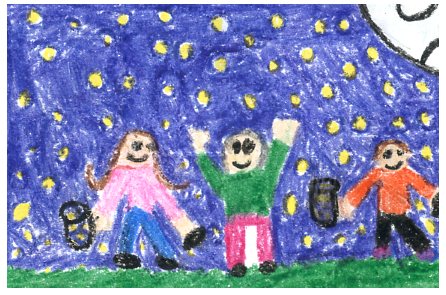 Patricia is having a reunion with her family. Her grandma said "We're going to catch lightning in a jar". Patricia asked what that was, but her grandma did not tell her. Patricia's cousins came for the annual party. When it got dark they went outside to catch lightning in a jar. What does Patricia's grandma really mean?
The story reminds me of my family. I love reunions. I love reunions because I love playing with my cousins. It's really fun. I thought it was disgusting that all of Patricia's grandmas and aunts spit on rags then clean the kids with it. It's amazing that Patricia can summon fireflies.
I think that people shouldn't read this book because it is not really fun and kind of boring. Finding what lightning in a jar is exciting, but after you find out what it is, it's not really exiting anymore. I think people that like biographies should read this book. Most of Patricia Palocco's stories are about her life. I think you would be interested to learn how Patricia can summon fireflies. You may also be interested in her drawings.