Ellray Jakes Rocks the Holidays
Written by Sally Warner
Illustrated by Brian Biggs
Reviewed by Frankie R. (age 8)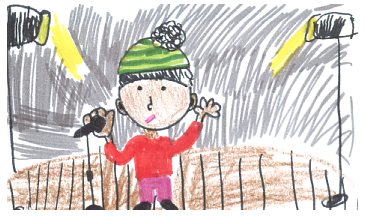 In the book Ellray Jakes Rocks the Holidays by Sally Warner, Ellray embarrasses a friend at school, named Kevin, but to be his friend again, Ellray needs to do 3 dares, one each day. The first one makes him emcee of the winter wonderland assembly. Then Ellray does the second dare which is to hang on the monkey bars all recess. Then Ellray does the third dare which is to say ''I love you'' to Fiona McNulty. Ellray is happy the dares are over. Next, it is the day of the assembly and Kevin gives Ellray a bonus dare to say a swear in front of the whole school! Does Ellray do it? You're going to have to read the book to find out.
I think Ellray Jakes Rocks the Holidays is a great book. Ellray Jakes is a realistic student. One reason is because it is realistic to have friend problems. Kids can relate to Ellray. Ellray is a student who has friend problems and I see friend problems almost every day on the playground! This is also a funny book. For example, Ellray has to say ''I love you'' to a girl! Also, one of the chapters is called Principal Hairy Beard James.
I recommend this book to second, third, and fourth graders who like to read realistic fiction and funny books. This story is not too hard to read. Ellray is a funny character that will make you laugh. Read the book to find out what Ellray does. Well…RUN!