New Year's Eve Thieves
Written by Ron Roy
Reviewed by Tea S. (age 9)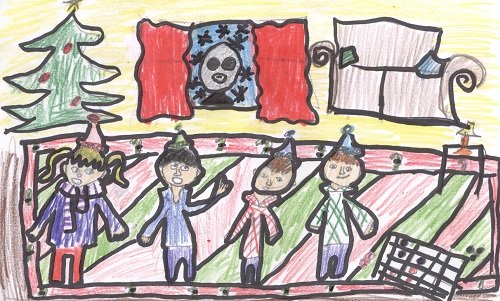 AHH!!! There is a mysterious couple looking in the window! In the mystery book New Year's Eve Thieves, Lucy, Brian, Bradley, and Nate discover that Mrs. Wong's computer is missing! Then at Nate's house the kids see a mysterious couple looking in Nate's living room window! Will the couple rob Nate's house next? Will the kids solve the mystery before it is too late?
In my opinion I enjoyed this book. The part when they see a strange thing and light in the barn is my favorite part. The book is similar to A to Z Mysteries because it is written by the same author, has the same design cover, and includes characters that know each other. When I was reading the book I couldn't wait to see what would happen next. This was the best book ever!
I recommend this book to kids that like a good surprise as well as a terrific mystery. This book has 72 pages. If I were you I would run to a library and start reading this book right now!