Waiting is Not Easy
Written by Mo Willems
Reviewed by Mia L. (age 8)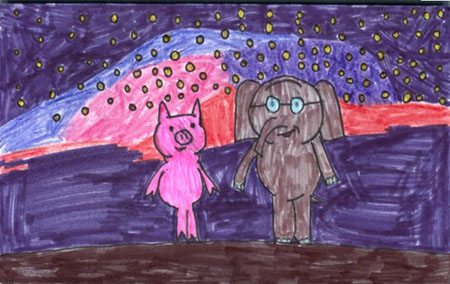 Have you heard of Mo Willems? You need to read some of his books! But…you need to read Waiting is Not Easy!, by Mo Willems. Just one look at the cover and you will be able to tell that there is a big problem! I think you should read Waiting is Not Easy! right now to find out about the problem.
Elephant, aka Gerald, wanted to find out what Piggie's surprise was, but he had to wait for the surprise. So he waited, and waited and waited, until…he got mad! Gerald tries to ask Piggie what the surprise is, but Piggie keeps saying, "You need to wait until it arrives!"
Gerald and Piggie are the main characters and they are very good friends. That's why Piggie wants to give Gerald a surprise gift. Isn't that nice!? Don't you want to hear more about their friendship? Read Waiting is Not Easy to find out! I really like how Elephant and Piggie are great friends. I also really like how Gerald finds out the surprise at the end. It reminds me of how hard it is to wait for a special surprise. Mo Willems really shows how the characters are feeling. For example, he makes the letters bold and leaning on Piggie to show that Elephant's words are really loud.
My favorite part is when Gerald (Elephant) finds out what the surprise is. Do you know what the surprise is? Well, here's a hint…it is something beautiful, and it's something that you'll love just like Gerald did!
If you like books about friendship, you will love all of the Elephant and Piggie books. Make SURE you make a time when you can go to the library or bookstore and try to find Waiting Is Not Easy!, by Mo Willems. Do you think you will like Waiting Is Not Easy!? I know you will like this book!