Valentine's Day Disaster
Written by Geronino Stilton
Illustrated by Geronimo Stilton
Reviewed by Abby H. (age 7)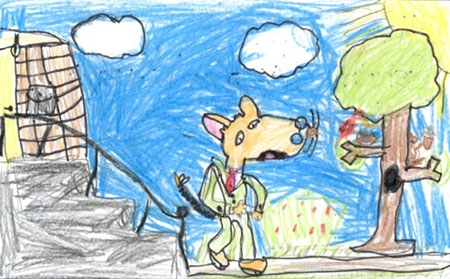 Geronimo Stilton is the main character in the story. One day Geronimo wakes up. He was so busy the night before setting up decorations that he forgot to set his alarm. So, on Valentine's Day he he sleeps in and he's late for work. That might not seem so bad, but he owns a newspaper store that is called the Rodent's Gazette. It is the most popular newspaper in New Mouse City. Once Geronimo gets up and is getting ready he makes all kinds of mistakes. When he gets out the door he's covered in bandages from his whiskers to the tip of his tail. When he's walking to work he sees more trouble. Then, he meets this nice mouse named Cheesy Lou. Read this book to find out if Geronimo Stilton gets help from Cheesy Lou. Also, see if he learns that whenever something bad happens there's always a solution to it and see if Geronimo's party is a success.
I like this book because the main mouse in the story was kind of funny. When I read this book I get so interested that I feel like I am in the book. I learned that there is always a solution to a problem. It made me wonder what I'd do if I had a frustrating Valentine's day. This book is like all the other Geronimo books. It's about a mouse that starts out with a regular life, but in the end he ends up in an adventure. The book reminds me of when I have a bad day. A unique thing about this book is that the mice can talk!
I recommend this book for kindergarteners up to sixth grade. My little brother loves Geronimo books and he's in kindergarten. My mom and dad read the books out loud to him. I think all kindergarteners should have this book read out loud to them.