Big Nate: Pray for a Fire Drill
Written by Lincoln Pierce
Illustrated by Lincoln Pierce
Reviewed by Lorenzo B. (age 8)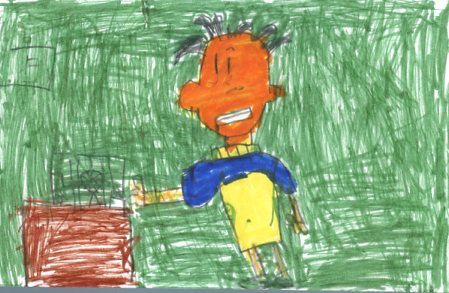 Introducing BIG NATE PRAY FOR A FIRE DRILL! Some of the Big Nate books are comic books, and this one is my favorite. There are a lot of surprises in Big Nate books on almost every page and some of them are so funny! One surprise is when Nate… Never mind I didn't want to give it away. Nate plays in a comic winning contest. You will want to read BIG Nate Pray for Fire Drill to find out what happens.
In my opinion, Big Nate Pray for a Fire Drill is an awesome book to read! This is because funny things happen to Nate. For example, during a social studies test, Nate wanted a fire drill so he wouldn't have to take the test! He actually asked the principal to make a fires drill! It's very funny if you like to laugh because there was a part when Nate asks his sister if he could put a ball on her head and something funny happened! I like this book because it is a part of a series and each book has funny things that happen to Nate both at home and in school. It's epic for those who love awesome books!
I recommend this book to ages 6-16.