Nate the Great Goes Down in the Dumps
Written by Marjorie Weinman Sharmat
Illustrated by Marc Simont
Reviewed by Brielle F. (age 7)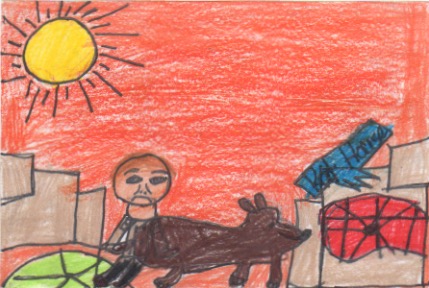 "Do you have a case for me to solve? A detective named Nate is on the case!" Nate the Great is trying to find a lost box to hold his friend's money in it for her business. "Nate!" cried his friend. "Can you help me find my money box for my business?" asked Nate's friend, Rosamond. "Who helped you set up?" asked Nate. Nate is persistent, which means that he never gives up! Nate has a dog named Sludge that is also a detective with Nate. Nate and Sludge went to Nate's friend, Finley's, house to start looking for the missing box. They thought it was there because Finley collects boxes to put his pet rat in. When his rat eats the box, that's the time he looks for a new box to put his pet rat in. But…it wasn't there. So they looked somewhere else. Then they looked in the grocery store where they had all the grocery food packed up. But…it wasn't there. Remember, Nate is persistent, so he wouldn't give up. He went back out and started looking for the for the missing box. Don't worry…Detective Nate is on the case!
In my opinion, this book was a great book because it was a funny book and it was a mystery book and I love mystery books. It was one of the best books I've ever read in my life! My favorite part of the book is when Nate the Great, the detective, helps Rosamond his friend solve her mystery or problem. The way the illustrations were done are not the way I would do them if I were the illustrator. There is a pattern: black, white, black, white, black, white. This book taught me a life lesson. If you want something done right, you have to do it yourself. This story reminds me of when my mom or my dad tells me to do something and I say no. "Can you do it please?" And they say "No. You have legs and they work…so you can do it." On a scale of 1 – 10, I think this book deserves a 10 because it is an amazing book. My favorite character is Nate the Great. He is an amazing character because he solves cases and mysteries like nobody! This book makes me wonder about how the author and illustrator work together and come up with these ideas. When I was reading this book I felt like I was dreaming because it felt like my mind was going wild with excitement! I think that this book is a "falling off the cliff" book. That's how good I think this book is. It might be even better.
If you like books by Marjorie Weinman Sharmat, illustrated by Marc Simont, this is the book for you. This book might make you think and wonder. If you like mysteries, this book is the one for you. I also recommend this book to people who are really interested in mysteries. Last but not least, I recommend this book to first graders, second graders and third graders. The ages I recommend this book to are ages 6, 7 and 8.