Clementine and the Family Meeting
Written by Sara Pennypacker
Illustrated by Maria Freeze
Reviewed by Skyler A. (age 8)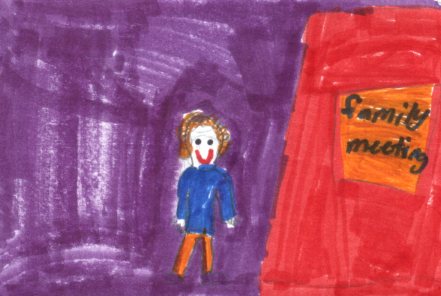 Have your mom and dad ever kept a secret from you? Well in Clementine and the Family Meeting Clementine's mom and dad are keeping a secret from her. One day Clementine is walking into the kitchen and she sees a sign that says Family meeting . Clementine thinks something is wrong and is worried. She spends all her time being worried. Clementine's mom and dad call her into the family meeting. Clementine's mom and dad tell her what the secret is. Clementine is not happy and her day just gets worse and worse from there.
I like this book because I was surprised when I figured out what the family meeting was about. She was getting a new brother or sister. I can relate to Clementine a lot. I have two younger brothers and they are annoying! My favorite part is when she got her tool belt. She was playing with it in different funny ways, like twirling it around. It really made me laugh. This book was really interesting. I did not want to put it down. I wanted to find out what happened next.
I recommend this book to second to fourth graders. Clementine is just like them. Things don't always work out for Clementine, just like other kids. I give this book two thumbs up. It made me laugh out loud and it will make you laugh too. Go run out and try to find this book to read.