Diary of a Wimpy Kid
Written by Jeff Kinney
Illustrated by Jeff Kinney
Reviewed by Josie L. (age 8)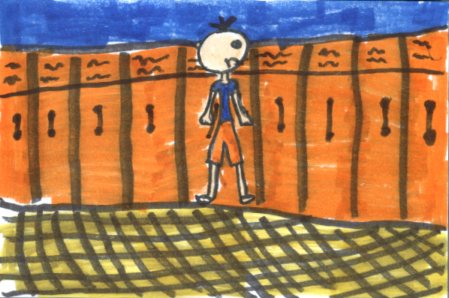 Have you ever felt really unlucky? Well in "Diary of a Wimpy Kid" , Greg experiences just that. Greg is mad at his best friend Rowley because he says something really annoying. The cheese touch is going around the school, so Greg can't focus. Greg's year just keeps getting worse and worse.
I really liked Greg and Rowley, but I didn't like the teenagers in the book because they were extremely mean. I thought the illustrations were hilarious. They explained a lot about the story in a funny way. This book is like the other 'Diary of a Wimpy Kid" books. Greg is always having horrible luck.
I think other kids would like this book. This book was funny and amazing. I give this book five stars in the book world. "Diary of a Wimpy Kid" is the book for you when you are feeling sad. It will make you happy.