Diary of A Wimpy Kid Hard Luck
Written by Jeff Kinney
Illustrated by Jeff Kinney
Reviewed by Ben M. (age 9)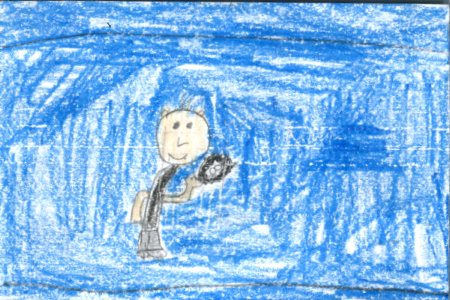 Have you ever had hard luck? Well, Greg Heffley does in "Diary of a Wimpy Kid Hard Luck". This book is about a kid named Greg Heffley who is having a terrible day. It gets worse when his best friend Rowley gets a girlfriend. Greg and Rowley end up not being friends. After that Greg wears a body blanket to school and he gets all sweaty in gym. Greg can't unzip the zipper on the body blanket because it is stuck. Greg then uses a magic 8 ball on a test and gets in trouble. Greg's day just gets worse and worse.
I like this book because I think its funny when Fregley eats a potato chip out of Greg's hand and puts it in his mouth. Fregley then offers to give it back. My favorite part is when Greg steps in dog stuff and doesn't find out until he gets to school. My favorite is character Fregley because he does funny things.
I recommend this book to people that have a good sense of humor. This book is hilarious. It will make you laugh out loud. I think you should read this book.