The Berenstain Bears' New Baby
Written by Stan & Jan Berenstain
Illustrated by Stan and Jan Berenstain
Reviewed by Kian K. (age 7)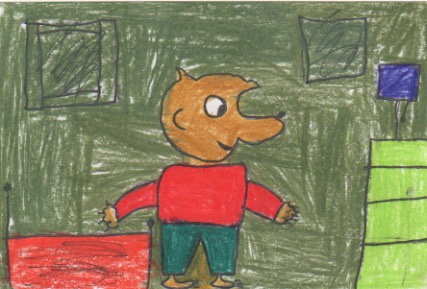 This book is about three bears: Papa Bear, Mama Bear, and Small Bear. One day, Small Bear outgrew his bed, so him and Papa went into the woods and found some wood and chopped it and chopped it until they had enough wood to make a new bed for Small Bear. They walked back home into Small Bear's room, but right away, Small Bear noticed that his old bed was not there. Mama Bear said from the other room, "You outgrew it just in time!" Find out the special thing that happened when you read the book.
This book is interesting because I thought that only squirrels could live in trees, not bears even though it's just a book. But small bear was still fine living in a tree. The funny part was when small bear grew out of his old bed so he couldn't sleep in it anymore. I also liked the part when they chopped down the tree to make a new bed for small bear. I also like the part when they walked into small bear's room but his bed was not in his room. Then mama bear said, "Come in here!" The part that I liked the most was when the baby was born. The funny part was when the baby punched him in the nose. On a scale of 1 – 10, I'd do 9 because it was a great book.
I recommend you read this book if your mom is pregnant or if you have a sibling. I recommend that this book is for mostly every age even if you don't have a sibling because it teaches you what a baby might act like.