Perez and Martina: A Folktale from Puerto Rico
Written by Ellen Wettersten
Reviewed by AnQi W. (age 9)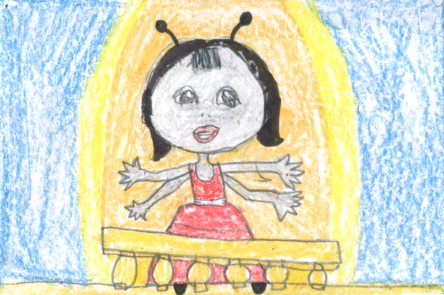 There was once a beautiful cockroach. The cockroach's name was Martina. She liked her house very clean, so she cleaned it once a day. Senor Cat came into her life and wanted to marry her, so Martina said, "Are you good at singing ?" Senor Cat started to sing! If you want to see who else comes to ask Martina to marry them, you will have to read this book.
I think this book is great because all the animals are horrible singers and it is funny. Martina told them to sing because she did not want to sound bad like the other animals. I like that this is a folktale from Puerto Rico and there is Spanish words in the book. I also was interested in reading the book because Martina liked music and singing.
I think you should this book because it is a very fun book to read. This book has a happy ending. If you like music and singing, I think you should read this book. I recommend this book to readers in second and third grade. It is a great read aloud also! I give this book ten out of ten stars.