Henry and Mudge and the Starry Night
Written by Cynthia Rylant
Illustrated by Sucie Stevenson
Reviewed by Alex B. (age 7)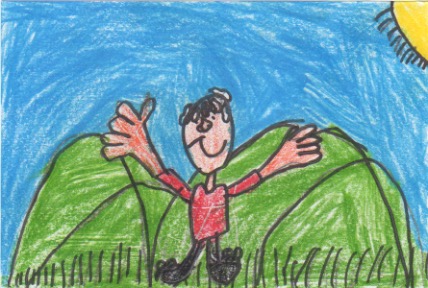 Henry and Mudge go to Big Bear Lake in August. They were lucky because their mother was a camp fire girl and she knew a lot about camping. But his dad, not so much. He just played guitar. He didn't know how to make camp food or build a campfire. Henry and Mudge were excited to go to Big Bear Lake. He told Mudge what they will see. Read the book to find out what they're going to find at Big Bear Lake.
I think this book is fun because I always wanted to camp. I also like lakes because you get to go swimming sometimes! I also like music and playing guitar. It also reminds me about my dad because he plays music too and mostly guitar. My favorite character is Mudge because he's always playful and he's also the drooly dog in pretty much all the books. I like the part where Henry's dad pulls out his guitar and starts playing because I LOVE the guitar. I like the way Cynthia Rylant wrote the words because it's really easy to read and also see. I also like the way the story went. The way the story went was just really good and the name Big Bear Lake…it sounds like a very unique name (Big Bear Lake) and one more thing…THE BOOK WAS AWESOME!!!
I recommend this book to people who like to camp and people who have dogs too. I think people who like guitars should read Henry and Mudge and the Starry Night because Henry's dad pulls out his guitar and starts playing it. You should read this book if you like looking at the stars at night and sleeping in a tent with your sleeping bag and roasting marshmallows. If you like snuggling with your parents and maybe your dog (if you have one), you should definitely read this book.