The Berenstain Bears Clean House
Written by Stan & Jan Berenstain
Illustrated by Stan and Jan Berenstain
Reviewed by Anna F. (age 7)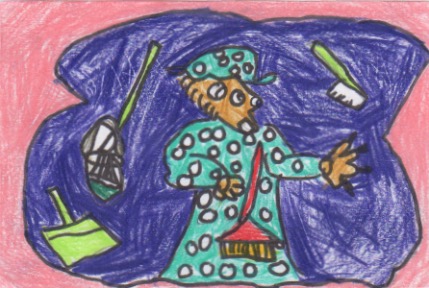 Do you like to clean? It was spring. Mama Bear was going to clean the house, but Pa, Sis, and Brother Bear wanted to help also. They started cleaning Papa's stuff and then Mama's stuff and then Sister's and Brother's stuff. Then there was too much stuff, so Papa decided to make a yard sale. They made a sign that said, "Yard Sale Today." Then they went upstairs to the attic but there was way too much stuff. What will the Berenstain Bears do with all their stuff? Read the book to find out what happens to the stuff and the yard sale.
This book kept me interested and at the end it was very funny. My favorite part was when the bears were cleaning Mama's stuff because on her pillow, it said "Home Sweet Tree" instead of "Home Sweet Home." I feel bad for Brother and Sister Bear and Mama and Papa because they had to give away their stuff and they have memories of them.
If you like reading Stan and Jan Berenstain books and if you like funny books, then you're in the right place. So enjoy the Berenstain Bears Clean House! If you have a big house and if you want to know how to clean your house to surprise your mom or dad, read this book 2 – 3 times.