Nate the Great and the Boring Beach Bag
Written by Marjorie Weinman Sharmat
Illustrated by Marc Simont
Reviewed by Alexis C. (age 7)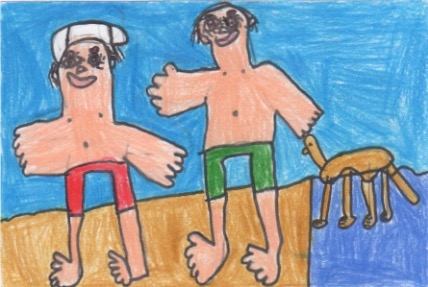 Will Nate the Great find Oliver's beach bag on the beach? Oliver thinks he lost his beach bag. All he has left is his beach ball, but then his ball got kicked or thrown across the beach. Nate the Great tries to solve the case. Nate the Great takes a piece of paper out of his pocket and writes a note to his mom and puts it in his dog, Sludge's mouth. Nate the Great hopes Sludge does not get lost or stop to eat, but a few minutes later Sludge comes back with the note still in his mouth. Nate must think Sludge might have done one of the things he was going to do. Will Nate the Great find Oliver's beach bag?
I like the part when Nate the Great found out where Oliver's boring beach bag was because Oliver was very happy. This book connects to my life because I lose things all the time. My favorite character was Sludge because Sludge is funny. He plays around instead of helping. Sludge likes pancakes! Dogs don't usually eat pancakes very often. The author gives me a picture in my mind by adding very detailed words. A feeling I felt reading the book was worried because I was afraid Nate the Great was not going to find Oliver's beach bag. Another feeling was happy because he found out where Oliver's beach bag was.
I recommend this book to boys and girls who like going to the beach because this book is about Nate the Great going to the beach. You might be interested in the extra fun activities in the back! I think other first and second grade readers could read this book too if they really want to.