Jamie O'Rourke and the Big Potato
Written by Tomie dePaola
Illustrated by Tomie dePaola
Reviewed by Diana K. (age 10)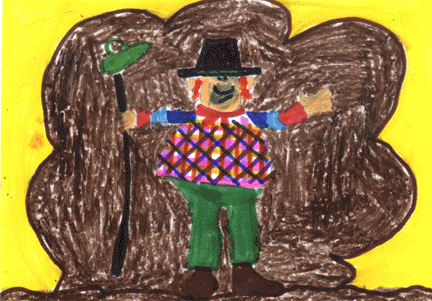 Have you ever seen a potato as big as a tree? You will when you read about Jamie O'Rourke and the Big Potato. The story is about a man and a potato. Jamie was the laziest man. His wife did all the work. One day she got sick and Jamie had to find food to last them all winter. So, it was midnight and he went to search for food. He was almost halfway to a hill when he found a leprechaun. Jamie grabbed the leprechaun. Then the leprechaun said,"I will give you this seed. Jamie said o.k. Jamie planted the seed and a huge potato grew. If you want to find out what happens to the potato you will have to read the book.
I like this story because Jamie had to see how hard it is to work, because his wife did it all. Also you will learn about a new word, "pratie". It means potato. It is good to read this story because the man changed. He started to work a lot harder.
I recommend this book to all children. Everyone can learn that it is important to work hard.