Enemy Pie
Written by Derek Munson
Illustrated by Tara Calahan King
Reviewed by Olivia H. (age 8)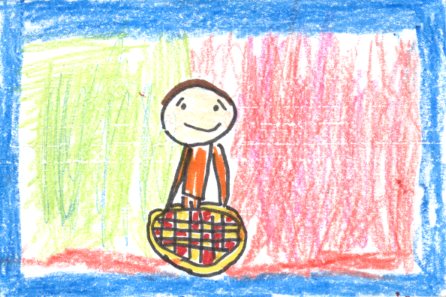 Have you ever had a bad enemy? Well, that's what Derek has. Derek's enemy is Jeremy Ross. Jeremy Ross struck Derek out in baseball. He laughed at Derek. He even had a party on his trampoline and Derek wasn't invited. Derek told his Dad about Jeremy. Derek's Dad made enemy pie…. What is enemy pie and how does it work? Read the book to find out.
This book is so good, it was like I was glued to it. It teaches you a lot about friendship. I give this book 5 stars. I loved it so much. I couldn't stop reading it. It was an interesting story. It shows you how to turn an enemy into a friend. "Enemy Pie" has a good lesson-Don't be judgmental.
I recommend this book to kids in first to third grade. It teaches you a lesson about friendship. It also teaches you how to make pie!