Enemy Pie
Written by Derek Munson
Illustrated by Tara Calahan King
Reviewed by Erin M. (age 8)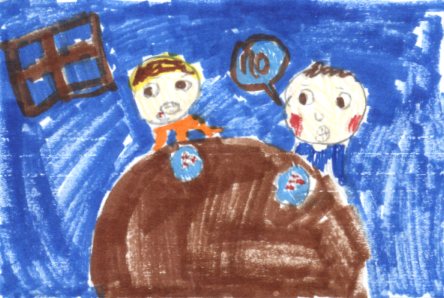 What would you do if someone and was mean to you? In "Enemy Pie", that is what Derek faces. A new kid named Jeremy Ross moves into Derek's neighborhood. He is mean to Derek. Derek puts Jeremy Ross on his enemy list. Derek didn't have an enemy list until Jeremy Ross moved into the neighborhood. Derek goes to his dad for help. His dad says he knows what to do. He takes out a cookbook and takes a piece paper from it. He says it is the recipe for enemy pie and it will get rid of his enemy. Derek dad tells him if he wants enemy pie to work he has to spend a day with his enemy. So Derek goes to Jeremy Ross' house and asks him to come out and play. They spend the day together and have fun. They then go to Derek's house for some pie. Will Derek let Jeremy eat they enemy pie? Will they become friends? Read this book to find out.
I think the theme in this book is never say you don't like a person if you don't know them. This book teaches you how to make an enemy into a friend. This is a really good book, when I was reading it I didn't want to put it down.
I recommend this book to boys and girls of any ages. It teaches a good lesson in it. Boys and girls can learn a lot from this book. I give " Enemy Pie" five stars. I hope you like it as much as I did.