Those Shoes
Written by Maribeth Boelts
Illustrated by Noah Z Jones
Reviewed by Laura G. (age 8)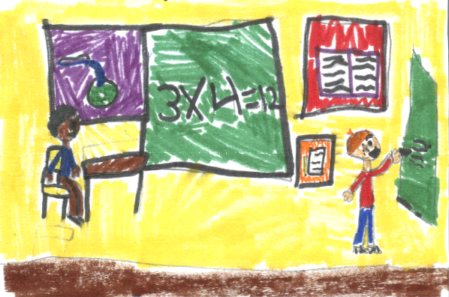 Have you ever wanted something so badly and you HAD to have it? Jeremy wants a pair of shoes that everyone has. He goes shopping with his Grandma. Jeremy finally finds those shoes for a low price. They didn't fit, but he bought them anyway. Jeremy's friend Antonio had shoes that had holes in them. They had duct tape on them to hold them together. He NEEDED a new pair of shoes, but couldn't afford them. Jeremy's new pair of shoes are the right size for Antonio. What will happen next?
"Those Shoes" is a terrific book that teaches an outstanding lesson. It teaches us to be generous and to give to others. The characters are also awesome. The characters are awesome because Jeremy changes from WANTING those shoes to realizing that Antonio really NEEDED those shoes. I think the illustrations are perfect. The illustrations are colorful and they match the words perfectly.
I think this is an outstanding book. I think this book would be compelling to kids ages 6-8. They can learn a lot about being generous. Now get out and read this book now.