Teddy Bear's Scrapbook
Written by Deborah and James Howe
Illustrated by Timothy Bush
Reviewed by Savannah G. (age 8)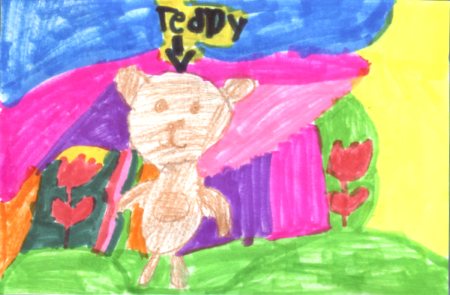 If you want to read an adventurous book, you should read a book called Teddy Bear's Scrapbook by Deborah and James Howe. This book is adventurous because in the book it says Teddy bear tells a story to Cheryl, his friend. He tells her about an abominable snowman that was trying to destroy all the buildings in the town where he used to live. Teddy tells her how he went out to look for it. It was winter and there was a lot of snow. He ran out of food and twisted his ankle. He finally found the snowman and attacked him with his sword. Read this book to find out what other adventures Teddy goes on.
I like this book because Teddy goes on many adventures. For example, Teddy goes to Hollywood and meets a penguin named Milton. Milton is a movie-star who encourages Teddy to be a movie-star with him. Teddy gets to be on the cover of Silver Screen magazine all because of Milton. Cheryl is impressed with all of Teddy's talents. The illustrations in the book are descriptive and show what's going to be in the chapter. For example in one picture Teddy is in the Himalayas and it shows him standing in the huge footprint of the abominable snowman. This helps me understand how Teddy finds the snowman and just how big this snowman is. The character Cheryl has a big imagination. If there isn't a hurricane, but she wants one, she creates it with blankets. She reminds me of Judy Moody. That's why I really enjoyed the book.
I recommend this book to 3rd graders through 5th graders who like stories about friendship. For example, when Teddy wants to share his adventures with Cheryl, he wasn't sure whether he should tell her because he wasn't sure she could keep a secret. Teddy tells Cheryl the story and she keeps it as a secret. If you go on adventures with your friends, you should read this book.