Every Living Thing
Written by Cinthia Rylant
Illustrated by S.D. Schindler
Reviewed by Martina S. (age 8)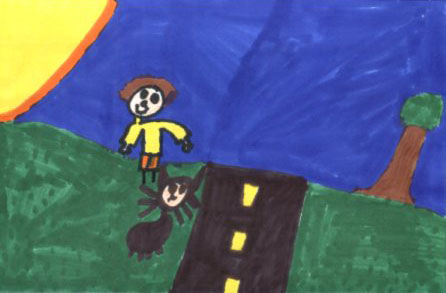 In the story, "Spaghetti" from Every Living Thing by Cynthia Rylant, Gabriel is sitting on the front stoop of his building by himself. Gabriel is deep in his thoughts. He remembers he was the only one in the class with the right answer that day. He wants company but he doesn't want to be with anyone around him. He hears a kitten crying on the street Read the story to find out if the kitten can change Gabriel.
I like this story because Gabriel is an interesting character. No kid that I know is like Gabriel. In the story, Gabriel is looking for a friend, but also wants to go off by himself and live outside with the coyotes. This story also teaches a lesson bout friendship. Gabriel learns that a special friend can make you feel like you are part of something. When Gabriel picks up the kitten, he has a great reaction that any reader will love. Will he still feel lost? It is part of a collection of short stories by Cynthia Rylant's book, Every Living Thing. All of the stories have animals that are important to people. This is why I like this short story.
I recommend this book to 2nd and 3rd graders because they will understand the book and Gabriel better. You might also like to read other stories in the collection.