The SpongeBob Square Pants Movie
Written by Marc Cerasini
Reviewed by Kaylie B. (age 8)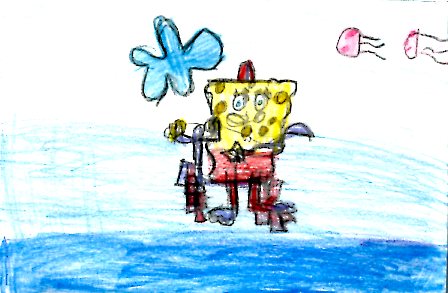 In the story, Spongebob and Patrick want to become superstars. They go on audition at the Krusty Karb and Spongebob has nothing prepared. Then Spongebob makes up a stunt and ends up making fun of himself. The director named Barrey Cuda changes his mind about a stunt show and makes it a blooper without telling Spongebob. He becomes famous but is means to his friends. During his premiere, his friends don't come and Spongebob gets embarrassed because everyone laughs at him when he crashes during his stunt. A the end, he and his friends make up.
My favorite part is when Spongebob is making up his own stunts by flipping Kraby patties blindfolded. It's funny because he makes the Kraby patties inside out with the lettuce on top. He is my favorite character because he performs a lot of stunts but always crashes and manages not to get hurt. He is very funny. This story relates to my life because it reminds me of a time when my dad was helping me learn how to roller skate and I kept crashing. There are a few pictures that show you what is going on and what the scene looks like.
I think others should read this book because it is really funny and entertaining.