43 Old Cemetary Road: Till Death Do Us Bark
Written by Kate Klise
Reviewed by Sophia L. (age 8)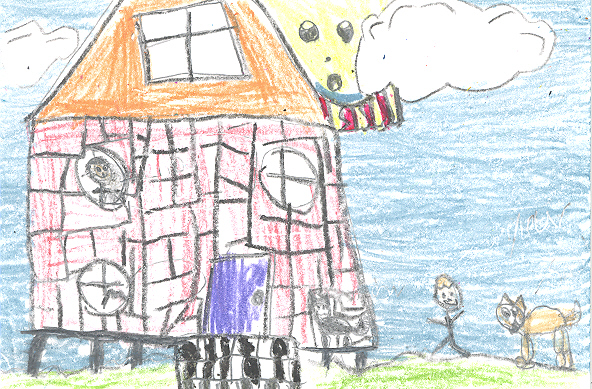 ''Woof Woof!'' If you like suspense, animals and laughter, this book you will love! This book was written by Kate Klise and its marvelous pictures by M. Sarah Klise and is called 43 Old Cemetery Road: Till Death do us Bark.
To begin with, this book is about two humans, a ghost, and a cat. They all live in the same house and one of the humans named Seymour wants a dog. Seymour is so happy when one day, the dog Secret follows him home. Seymour doesn't know that Secret's owner died and the owner's kids are fighting over his money. Seymour's adoptive dad Ignatius, and the ghost Olive don't really like having Secret around. Soon, the owner's kids come and take Secret back, but Seymour fights to keep him.
I really like this book because of the way the author wrote it using letters between the characters. NOT many books have a letter on EVERY page! This book is also in a series. The series is called 43 Old Cemetery Road and this is the third book. You should try to read the books in the correct order so you really understand the characters. My favorite part is when they introduce Kitty and Canine Breath, Secret's owner's children, and their names are like dog and cat breath. Ewww! That was a funny thing for the author to do because they bad characters.
In conclusion this book is recommended for families to read together. This book is also very good for mystery lovers so go check it out today!