Me and My Cat?
Written by Satoshi Kitamura
Illustrated by Satoshi Kitamura
Reviewed by Bo-Kang W. (age 7)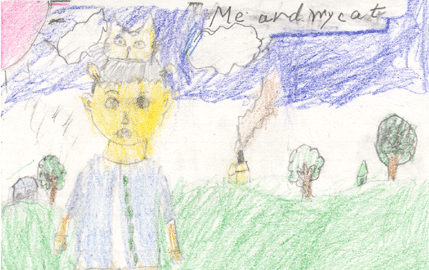 The story is about a boy name Nicholas and a cat. First Nicholas's mom said, " Wake up you are late for school." When Nicholas wakes he thinks he is a yellow cat. Then the real cat (who thinks he is Nicholas) said," I think it is nice to be a cat because I do not have to go to the school". Next he climbs onto the shelf. Oops! The shelf falls down. His mom threw him out of the house. At the end of the book the teacher turned into a cat and he climbed on to the desk.
The funniest thing in the story is Nicholas thinks he is a cat, so he sits on the cat's toilette. It is not nice to be a cat because the dogs can eat him. Sometimes my mom says," Wake up" but she doesn't say, "you are late for school." In the pictures there are a lot of messes.
My mom and my dad would like this book. This book is hard that's why they would like it..