Who Would Win? Komodo Dragon vs. King Cobra
Written by Jerry Pallotta
Illustrated by Rob Bolster
Reviewed by James W. (age 9)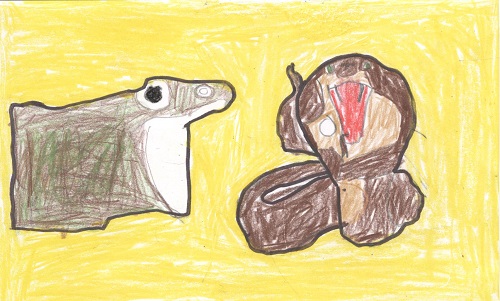 If you like animal fights this is the book for you. This nonfiction book is about a komodo dragon fighting a King Cobra. You do not want to get bitten by a Komodo dragon or a king cobra. They both have venom. King Cobras have fangs and Komodo dragons have teeth. They both hatch from eggs. King Cobras dance to music. If you want to see who wins read this book.
The book was cool because it tells you facts about the Komodo Dragon and a King Cobra. My favorite dangerous animal is the King Cobra. The illustration is awesome because it almost looks like it is real looking. The king Cobra reminds me of my brother's class pets because the Cobra and my brother's class pet, a bearded dragon, are both reptiles. I would recommend this book to kids who love animal fights.
I think kids should read this book because the book has great facts about a Komodo Dragon and a King Cobra. Also the book has 32 pages so it's not that long to read. I think people who love reptiles should read this book. Reptiles are very cool to look at, pet, and feed they have scales. Go get this book and all the other Jerry Pallotta books in the Who Would Win series.