Lucky Ducklings
Written by Eva Moore
Reviewed by Sophie M. (age 8)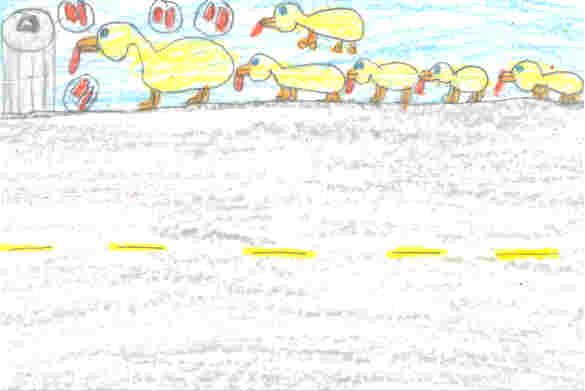 "Come rescue the little ducklings!" If you enjoy books about cute animals, read Lucky Ducklings by Eva Moore.
To begin with, the little ducklings and mom duck go on a walk and come out of a park and then go into a town. While they were walking they saw some food on the ground and had a bite to eat. They kept on walking. Then the baby ducklings fell into a storm drain. The baby ducklings made a huge ruckus! A person saw the ducklings fall into the storm drain, and they called for help.
In addition, this story reminded me of something that happened to me. It reminded me because a girl in the story saw ducks walk past her and that's what happened to me before. My favorite part was at the end. It was my favorite part because something good happens to the ducklings. The character that I found interesting was the last duckling, Little Joe. I found Little Joe interesting because he was the only duck that didn't always follow all the other ducks so he was always alone.
I recommend this book for ages six to eight and people who like animals. I think it would be good for these ages because it is not too young and not too old. Also, people who like animals would like this book. If you want to find out the ending, check the book Lucky Ducklings out.