Battle of the Labyrinth
Written by Rick Riordan
Illustrated by Rick Riordan
Reviewed by Sean L. (age 9)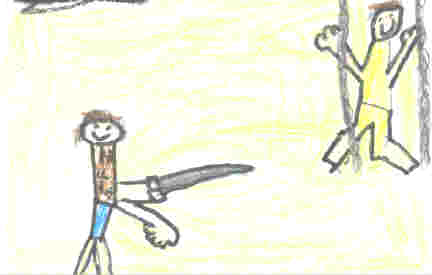 If you are looking for an adventurous book, than I found the perfect fit! Try Percy Jackson: The Battle of the Labyrinth by Rick Riordan.
To begin with, this story was adventurous because the characters had to find a hidden workshop in a maze as big as America. They fight lots of monsters and have to solve tricky riddles. My favorite part in the book was when Percy had to fight a demigod who was the son of Mother Earth. Whenever he was touching the ground and got wounded he would heal in like five minutes. So Percy hung him on chains to defeat him.
In addition, I found this book interesting because it reminds me of myself. It reminds me of myself because one day I had an adventure in the woods and Percy goes on adventures too. Also I liked this book because I liked a character in the story named Tyson. I liked him because he saved Percy more than once. I also liked this book because it reminds me of my friend Gaith. It reminds me of Gaith because he plays music and a guy in the story named Grover plays music.
In conclusion, I recommend this book for the ages of seven to thirteen. Buy this book and read it yourself!