Floors
Written by Patrick Carman
Reviewed by Will W. (age 9)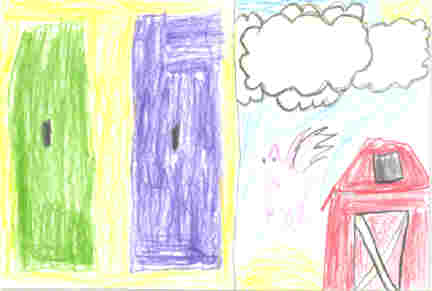 What would you do if an owner of a crazy hotel said that the fate of the hotel was in your hands? Well this happens to Leo Fillmore in Floors by Patrick Carman.
To begin with, this story was about Leo and his new friend Remi (short for Remilo). Leo finds a purple box and a note saying, "Find three more boxes the same size but different colors for the hotels fate rests in your hands." When Leo finds Remi he is already into it. Each box has a different room where you find another box. Then when Leo finds out that someone is trying to break the hotel, Leo was determined. He grabbed Betty the duck and Remi and went off to save the hotel.
In addition, I liked this book because it reminded me of the time when I found a box under a bed. Right when I found it I opened it but the box was empty. In the book Leo found four boxes, but his were not empty like mine. I closed the box and put it under the bed. This is related to boxes. Also my favorite part was when Leo was in the flying farm room. I liked it because I like farm animals because they are cute. It reminded me of when I went to the farm. Leo also reminded me when I got lost in a hotel. The thing that makes Floors special is it is one of a kind. It's unique because of the way the hotel is set up. For example, who would create a room that's a pinball machine?
I recommend this book for grades three and up. This book is a good book for many reasons. So check it out today!