The Bailey School Kids, Monsters Don't Scuba Dive
Written by Debbie and Marcia Thorton Jones Dadey
Reviewed by Samuel W. (age 8)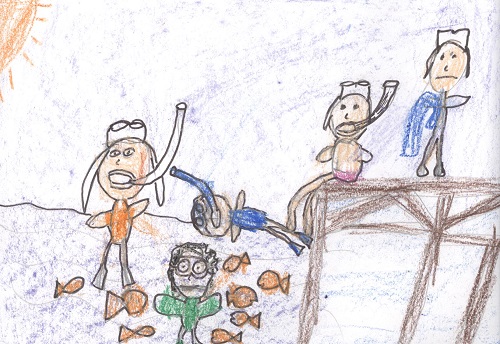 This book is in The Bailey School Kids series. It is about four kids who go to different places. In the book Monsters Don't Scuba Dive, the Bailey School kids think that there is a monster in Lake Erin at their summer camp. They get caught in a storm on a boat. The four kids Liza, Melody, Howie and Eddie were supposed to be hiking. Read to find out what will happen at the end of the book.
I really liked this book. I liked how the Bailey School kids solved the mystery. I thought the kids were very smart. I wish my friends and I could solve mysteries together. My favorite part is when Melody, Eddie, Liza and Howie went to the dock. There were learning how to swim. It reminded me of when I was at the beach and I was diving off the dock. The book is part of a series called The Bailey School Kids. Some things are the same in all of the books and some things are different. For example, the books all have different mysteries but the kids always solve the mystery.
I recommend this book for kids age 7 to age 10. If you like or you are a fan of mysteries this book would be perfect. The book is also an Accelerated Reader book. It almost has 70 pages in total.