Fake Mustache
Written by Tom Angleberger
Reviewed by Ethan A. (age 9)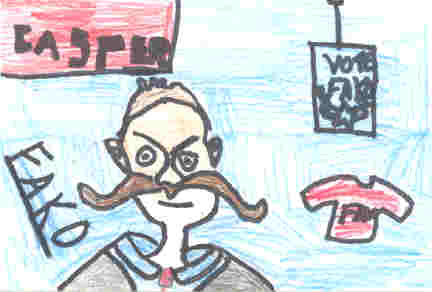 Do you like books about mustaches? If you do then, join Lenny in his amazing adventure in Fake Mustache Or How Jodie O'Rodeo and Her Wonder Horse (And Some Nerdy Kid) Saved the U.S Presidential Election From a Mad Genius Criminal Mastermind written and illustrated by Tom Angleberger.
First of all Casper and Lenny Jr. are best friends. Then Casper gets four hundred dollars from his nana Nookums. So he gets the handlebar number seven, a fake mustache that looks real. Later in the story Casper gets a suit and runs for president. Then Casper robs a bank no one knows Casper did it because the mustache fools everybody. Then Casper aka Fako Mustacho says that Lenny robbed the bank so everyone including his parents think he robbed the bank. The big idea is that Lenny tries to stop Casper from being president.
My favorite part is when Casper robs the bank because it's funny that no one knows that he did it. The character that changed was Casper because at the beginning Casper was mean to Lenny and at the end he was nice. I liked this book because it was a funny story about two kids that try to stop another kid with a mustache that is running for president.
I recommend this book because it is a funny book that has unexpected events. This book is a great book for ages 9 and up that like funny stories. The genre of this book is fiction.