Piper Reed The Great Gypsy
Written by Kimberly Holt
Illustrated by Christine Davenier
Reviewed by A.G. (age 9)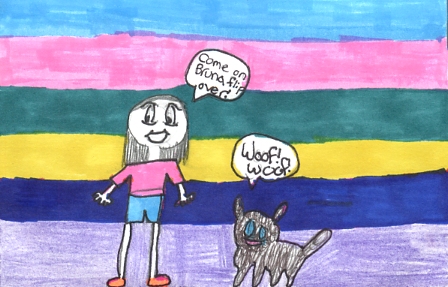 Piper Reed is getting ready for a gypsy club animal show. The pet she is entering in the show is her dog Bruna. When it's the day of the show Piper sees her friend and she thinks she is going to lose. Piper thinks her friend's dog is better than hers. Then it is Piper's turn on stage and she does not do well. Everyone laughs at her. Her dog does a couple tricks, but not all that Piper taught Bruna. When it was over the winner was announced…….. Find out who won when you read the book.
I like the book because talent shows are creative and I never would of thought of writing about a talent show. It is a really good book and there are lots of different animals. I like that there were lots of good people performing, but when Piper gets up everyone laughs because Bruna forgets lots of tricks and Piper is scared that she is going to lose.
I recommend this book to people who like pets and pet shows. This book is the second book in the Piper Reed series. I promise you that you will never be able to put this book down until you are finished.