The Giving Tree
Written by Shel Silverstein
Illustrated by Shel Silverstein
Reviewed by Andrea C. (age 8), Nefritiri P. (age 8)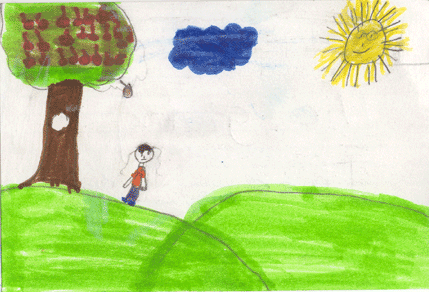 The story is about a little boy and about a tree. The story is about a little boy that like?s the tree. The boy loves the tree very much and the tree loves the boy. The main character is the tree and the boy. What happened in the story was that the boy asked the tree to give him money because the boy was poor. The tree said ?he has no money? and the tree said ?you could take my apples and sell them?. The boy asked for apples and the tree gave him apples. The boy got older and sat on the trees trunk. The story took place in the fall. The tree was nice because it helped the boy as he got older. We learned that the tree was good because it was the best.
Our favorite part of the story is when the boy came to the tree and asked the tree if he could climb the tree?s branches and the tree said yes. We like the story because the boy likes apple. The boy and the tree like apples and lived happily ever after. Another part we really enjoyed was when the tree gave the boy part of its body.
We think our families should read this book because we like it and we think they will like it too. The book reminds me, Nefretiri of a tree that I see every day. This book is the best in my opinion. The book was nice and colorful. The story was nice. I Andrea learned that I know trees like the one in the book. We also recommend this book to the kids from our summer group. We think they will enjoy reading this book just the same as us.