Who Was Walt Disney?
Written by Whitney Stewart
Illustrated by Nancy Harrison
Reviewed by L.H. (age 9)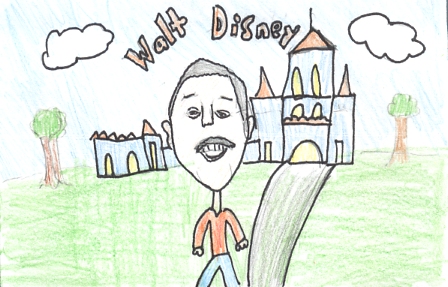 Have you ever had a dream come true? Well, Walt Disney did! He started making animations and that took him on a great adventure. He made some of the best movie classics. Some of them are Snow White, Mary Poppins, and even Alice in Wonderland. But most of all, he loved his two children, Diane and Sharon Mae. He would do everything with them. Of course you have heard of or have been to Disney World. Of course you have heard of Mickey Mouse, but have you heard of Oswald? Read the book Who Was Walt Disney to find out more about this lesser known character!
I think this book is awesome! I like it because it gives a lot of details such as information about Walt Disney's childhood. It gives facts that I didn't even know about. For example, I learned that his dreams all started out with a riding train he built. Once I picked it up, I didn't want to put it back down. It shows how Walt Disney grew up and how everything happened up to becoming one of the most famous people in America. It all started making animations, and then later he owned two of the most fun places in the world for kids to visit, Disneyland and Disney World. I think this book is just right for ages 8 and up. Who Was Walt Disney is a very interesting book, but I think every other book in the Who Was? Series is fascinating too!
I think second, third and fourth graders would really enjoy this book. If you like biographies that are not just a list of facts, but also a real story, I think you will probably enjoy this book a lot. I actually recommend all of the Who Was? series. Believe it or not, there is also a new series called What Was? I recommend those also. So, visit Barnes and Noble today!