Where the Wild Things Are
Written by Maurice Sendak
Illustrated by Maurice Sendak
Reviewed by Santiogo T. (age 8)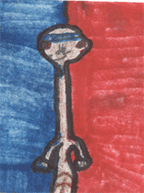 Where the Wild Things Are is about a boy named Max and when he was day dreaming in his room. Max?s room started to change into a jungle and in the jungle there were trees, vines and grass. Inside of the jungle there were also many kinds of monsters. There were, bird monsters, lion monsters and also goat monsters. The main characters in this book are all of the jungle monsters and Max. Max became the king of the jungle and he stayed up all night having fun with all of the jungle monsters. The main idea of this story is that even though Max was alone in his room he still had fun because he had a very big imagination.
My favorite part of the story was when Max became the king of the jungle. Another part I really liked was when his mother called him wild thing and then Max said to his mother that he would eat her up. The lesson I learned from this book was not to run down the stairs with a fork. This book reminds me that I sometimes look like a monster. I think that the book has a lot of mixed colors in the pictures. The book is unique because they talk about all of the monsters.
I recommend this book to people because I think that other people would like to read it because it is a nice book and it has many nice pictures. I think that the type of people that would like to read this book are the kids in my class and kids all around the world even grown-ups.