Wemberly Worried
Written by Kevin Henkes
Reviewed by Elaine S. (age 8)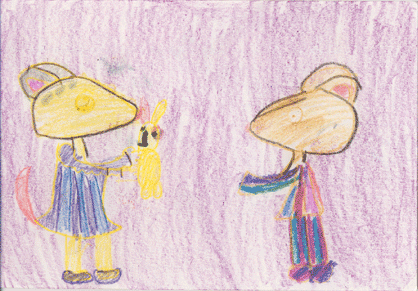 This book is about a girl mouse. Her name is Wemberly and she worried too much. She worried night, morning and day. School worried her too. Her mother told her do not worry too much. She still worried a lot and her mother put her to another school. Then her new teacher told her to meet a girl named jewel. She had a doll on her hand and she had stripe on her dress. She makes friend with her and she plays with her a lot. They sing together, they swing Together.
My favorite part of the story is that Wemberly got a friend named Jewel and she did not worry because friends make you happy and help you a lot. They got the same dress and they got the doll and they both worried too much and that?s cool because they got the same things.
This story is for children around 7 years old who worry a lot about their toys.