Timmothy Tunny Swallowed A Bunny
Written by Bill Grossman
Illustrated by Kevin Hawkes
Reviewed by Amanda R. (age 10)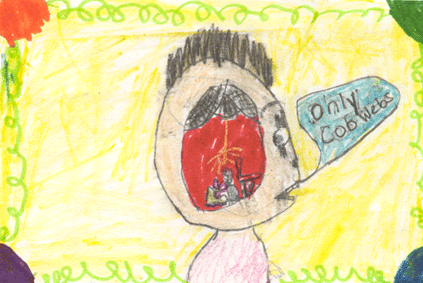 This book is about weird things that weird people do. In this book, there are a bunch of poems lodged together that make up one book. For example, a boy named Harold B. Bound turned his eyeballs around to face his brain, but saw nothing but cobwebs! Timothy Tunny swallowed a bunny and it got lodged in his throat. His mom said, at least it wasn't a goat. Last but not least, there was a poem about a woman. She was afraid that she would drown so she put a little scuba suit on her nose and it worked. She has not drowned yet.
The lessons to learn from this book are that you should not swallow animals because they will get stuck in your throat. You should never turn your eyeballs around because you will not see anything pleasant. If you are afraid to drown put a scuba suit on your nose. The pictures in the book are colorful My favorite part of the story is when Harold B. Bound turned his eyeballs around and saw nothing in his head but???.COB WEBS! .
I recommend this book to a person who is looking for laughs and to anybody else who is wacky.